…WHEN YOU CAN.
Garden to table, like many lifestyles, manifests in a spectrum. It does not have to be a complete lifestyle change, it can start with just a single meal prepared with a few ingredients that you have grown yourself.
I've been growing vegetables for food for about 10 years. I admittedly started off with a grand vision which I would tout as "we're aiming to be completely self sufficient and produce all of our own food" yeah, yeah! For me, with a craft business and time consuming hand skills to master, this dream was mostly unrealistic. So I've found a happy medium, by growing what i can and making the best use of it. And after all these years, we still cheer every meal that has been completely home grown. In fact, we have dishes that are designed for this happy occasion.
Experience has taught me to relax my expectations and celebrate those times when we have momentarily achieved the ultimate goal and continue reducing our footprint on the earth by growing what we can.
What to buy and what to grow?
Ultimately what I've found to be sensible is to buy locally grown at extremely reasonable prices and then grow the foods that I either cannot buy or that are generally expensive.
Locally Grown
According to my friend Janine, who knows everything there is to know about France, there are about 13000 farms in our region. And many of them sell directly to the public. In recent years, many large producers have installed automatic vending machines. This means that at any time of the day or night you can purchase carrots, potatoes, yellow onions, eschalots and the list goes on. There is often also a dairy fridge with crème fraîche, milk, butter and yoghurt. And just to bring home my point, our local potato farmer sells 25kg for 9 euro. We buy carrots for 1,20 a kg, though they often fall under a euro per kilo. Great prices for very fresh food.
Even if you don't have access to farms and small holdings, the same rule can apply to the supermarket or your weekly street market. Buy the things that are just not cost effective to grow. Once you've garnered some experience growing things you will be able to see that value clearly.
My Garden
It's a wonderful thing having access to all the incredible local food that we do. What it means for our own garden is that I don't need to grow these things, I grow things that are expensive or difficult to find.
We have 60 square metres of raised beds for growing vegetables and herbs, 32 square metres of cutting flowers and some fruit and nut trees; apple, cherry, fig, white grapes, raspberry, olive and hazelnut.
What I Grow
This year, 2021, our garden has lots of variety with no experimental choices. What i mean by this is that everything is part of our regular diet. Every now and then i will experiment with a new vegetable, Aztec Broccoli for example, but i have not successfully integrated a lot of these things into our regular diet. There are also some vegetables that I love to grow but for one reason or another I don't. I had a wonderful heirloom sweetcorn but in 2019, I planted it and every plant had become infected by corn smut. The fungus is a delicacy in south America but I really wanted sweetcorn and in my view, the entire crop was ruined. So I'm leaving it out of the garden plan for a few years as it takes a lot of space to risk crop failure.
The 2021 Garden
So 2021 looks like this: four tomato varieties, four sweet peppers, two aubergines, two melons, one watermelon, two leek varieties, red onions, two heirloom mini lettuce, fresh chickpeas, black chickpeas, three snow peas, bush peas, brown swedish peas, two courgettes, a pattypan squash, a sweet pumpkin, two celeries, cucumber,, spinach and strawberries.
The Herb Garden
The aromatique perennials: syrian oregano, greek oregano, marjoram, thyme, winter savory, summer savory, spring onions, chives, egyptian walking onions, wild garlic, sage, peppermint, spearmint, swiss mint, rosemary, bay, italian parsley, curly parsley, dill and basil. We also plant nasturtium for bug protection.
Towards the end of the year, we will also plant 6 to 8 espaliered pear and apple trees along one of our border fences. And we'll re-structure the raspberry area which is a bit disorderly at present.
Get Growing
At the risk of sounding like a broken record, the most important thing is to grow what you can. Even if you live in an apartment or have a small courtyard, there is an incredible world of dwarf plants for balconies that will allow you to grow some food. There are dwarf, pole-like apple trees which are surprisingly productive. Some of these dwarf fruit trees also have multiple fruits grafted to them so that you can have 5 different cherries for example on the one tree.
The Tiny Tim tomato is an absolutely tiny tomato plant but it is phenomenally productive. I grew 48 of them as an experiment last season and we harvested kilos and kilos of cherry tomatoes of excellent quality. Even in a small balcony basket you can fit three of them and be picking every day throughout the summer. They require no special attention either just water and a bit of food and they are particularly resistant to maladies. The best thing is that they are heirlooms, so you can collect the seeds and plant them the next season.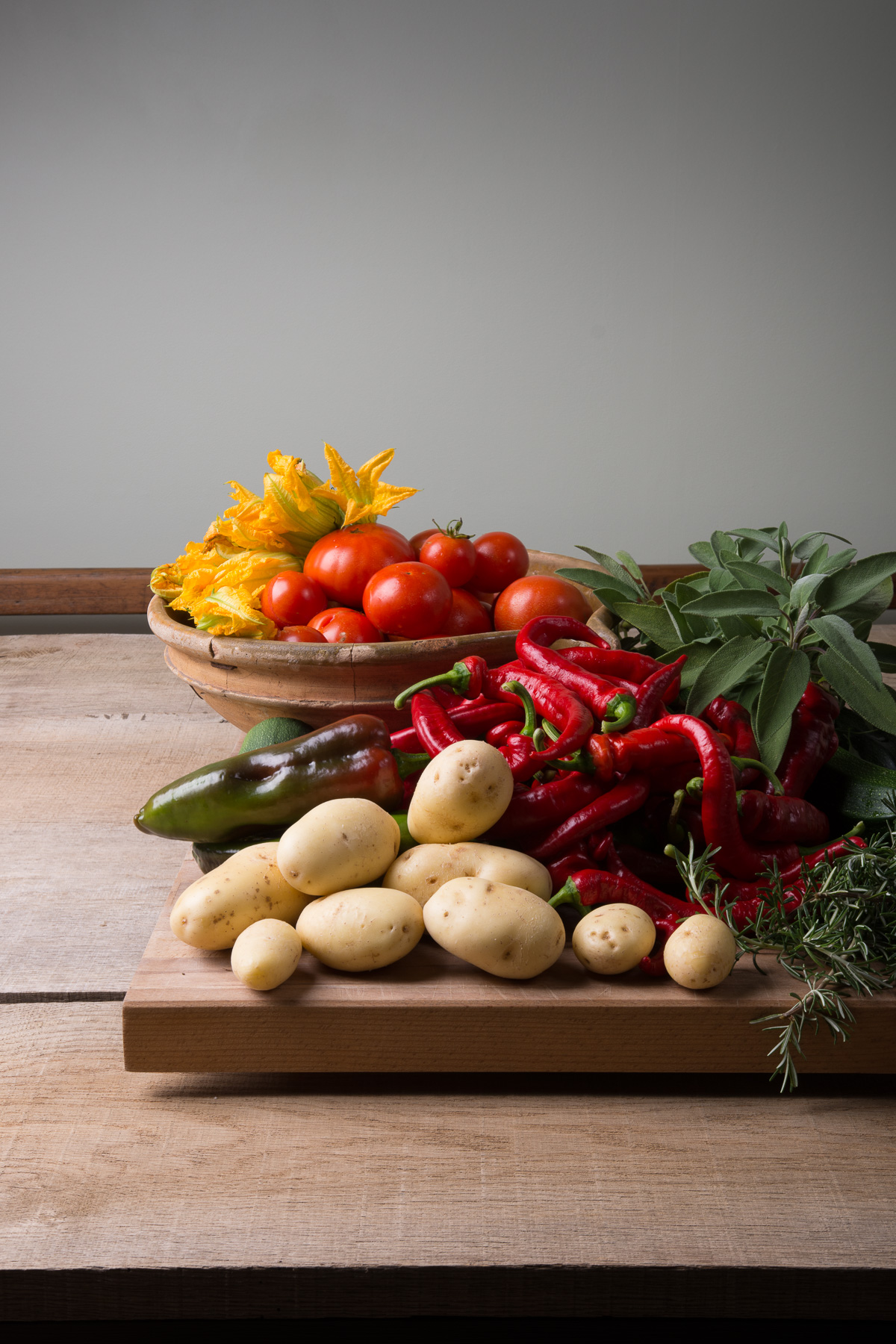 What I Cook
Over the years, we've become semi-vegetarian. That's mostly because we like it that way, I don't have that much of a taste for meat and prefer pulses and legumes. But when you have a garden, your meals are dictated by what's ready to harvest. So i've found that using a great recipe app to be extremely helpful. I run a search for our harvest and my saved recipes pop up one by one.
We eat everything from stir fried dishes to minestrone soup. Spinach pies and apple pies; lots of filled pasta like ravioli and tortellini and many trays of roast vegetables. We also cook Greek dishes like moussaka, stuffed vegetables lentil soup and chickpea soup. And although I am the only sweet eater in the house, I do love to cook pastry but I usually only do it when someone is coming for dinner or if we attend a party.
Storage
Obviously with all of this produce we also have to store some of it. Onions get cured and stored. Vegetables get blanched and frozen. And we make a lot of ketchup, as my gourmet ketchup recipe is a firm favourite around here.
Rustic Recipes
If you're interested, I'm starting a newsletter series where I share a recipe every week or two. They will be focused on home grown and local food. Every now and then I'll cover some food preservation and tips and tricks for managing bulk produce. But most importantly the recipes will be fresh, healthy and incredibly tasty!
Finding Helping Hands
Even a garden this size, which is not a large garden, requires quite a lot of time. In spring, I'm in the garden about 18 hours per week. I do a couple of hours every week day and then fulfil the rest of the hours during the weekend. The work starts in February and then slows down at the beginning of June. After which, it is mostly weeding and replanting harvested beds.
Thankfully, I don't have to do it all by myself. Aris, my husband, does most of the heavy lifting and digging when we need it. And, he looks after the chickens too in winter, especially when exceptionally sturdy feet are required.
We both weed together in the summer as an evening job around apéro. Usually, we start at one end of the garden and weed a bed a day until all 15 are done. Then we take a break and when the weeds pop back up, we start again. The more you do it, the more beds you can do in an hour. You can stay on top of the weeds. When my Mum is here in the summer, she weeds with us, helps me plant, harvests and processes food with me. And guests too when they are here lend a hand. That's one of the best things about having a garden, gardening together. Argh, it's so cliche but we really enjoy this time spent together. We chat away, do our jobs and then sit in the evening warmth for apéro. Bliss!
Gifts and Overflow From Friends
We have great friends, great friends who give the gift of vegetables. Two in particular grow vast quantities that they store in various ways but they nearly always have huge overflow. So we do bolster our annual harvest with some of theirs, especially for our ketchup production
See all of our recipes here, bare with us, we've just started and the archive will grow.